Calling all education explorers! Students may recognize the National Geographic Society as the explorers who make awesome YouTube videos. But, did you know the Explorer Mindset Learning Framework provided by the National Geographic Society delivers free resources for administrators growing students into engaged global citizens? We connected with Kelly Koller - a middle school teacher and real-life National Geographic Society explorer - for everything you need to know to get your classroom involved.
What we love about Kelly and why we asked her for more information about the Explorer Mindset:
Kelly works with students everyday. As a middle school teacher, Kelly speaks with experience and demands quality resources.
Kelly is a real explorer! She traveled to the High Arctic of Canada and Greenland to understand natural and human communities, the impacts of climate change and how an Explorer Mindset could benefit the learning process. She is also collaborating with teachers in Kenya on outdoor learning with a grant from the National Geographic Society!
Kelly is working to provide classroom ready resources. She is a grantee of the National Geographic Society with projects centered on utilizing outdoor learning spaces and educational technology to support students socially and emotionally in the learning process. She is also a 2018 Grosvernor Teacher Fellow recipient, recognized for her achievements in project-based learning.
What is the Explorer Mindset?
Several years ago a team at National Geographic Education got a group of National Geographic staff members, child development experts, educators and explorers together to identify attitudes and skills that are vital to explorers in the field. From this work, the Learning Framework was developed. My contributions to that foundation have been using that as the foundation to create more resources that support students envisioning themselves as the seekers, pathfinders, explorers of their world, their own learning and lives.
What should people know about the program?
First, National Geographic Education offers a variety of free courses to support educators and administrators. Check them out here. Additionally, through grant-supported work, I am conducting a study on the impact of an Explorer Mindset on student feelings of engagement and empowerment. Teachers in grades 3-12 can sign-up to participate through the end of March 2022, and will receive resources to support learning about and integrating an Explorer Mindset.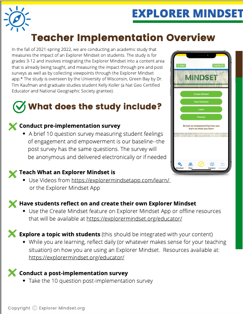 What Impacts have you seen or do you hope to see through the program?
The biggest impact I have seen so far is a huge variety of ways that educators are integrating an Explorer Mindset to help their students feel engaged and empowered.
What can I do as an administrator to get involved today?
Get involved with the study!! It brings resources to your classroom, provides insights to further student development and more. Have a look! You can also find great resources by exploring National Geographic's free professional development for educators: And as always, you can connect with me on Twittter @kellkoll or National Geographic directly @NatGeoEducation.


Do you have any deadlines for entry into the program or study?
Enrollment in the study by March 31st 2022, with implementation by June of 2022.
Do you have other resources for classrooms today?
Here are a few of my favorite:
How did you get involved in your expedition and how incredible was the Arctic Circle?!?!
The expedition to the Arctic was part of my 2018 Grosvenor Fellowship. It became the catalyst for my Explorer Mindset work that has been supported by National Geographic Society with education grants in 2019 and 2020. I am looking forward to traveling to Kenya in May of 2022 as part of the second grant.


We at MobileServe would like to thank Kelly for the time she spent with us and the tremendous effort she puts into building young minds into engaged global citizens!
Related Reading