The MobileServe team is excited to announce our most recent product updates, including the ability to create signups for volunteer opportunities, more robust reporting on users and service logs, and customizable hashtags to better drive volunteer storytelling.
Volunteer Signups
When creating Events, you can now create specific timeslots and indicate the number of volunteers you need for each slot. You can monitor signups from your Events page and any changes you make will trigger an email to volunteers you've invited.

To create timeslots from your Dashboard:
Go to Events
Create Event
Enter the basic details, select Continue
Click the "+" under Title
Add as many time slots as you'd like and select Save
And although this feature isn't new, we wanted to highlight our Event checkout reminders. If a volunteer checks into an event and is still checked in eight hours after the start time, they will receive an email reminding them to check out. The email will contain a link that takes them directly to the Event page on their app.
Users Export
The Users page on the Dashboard now shows Total Approved Hours for each person. We added this to make it easier to differentiate between total hours logged and those that have been approved by an Admin. We're also excited to share that you can now export your Users list! The export includes:
Total approved hours
Total rejected hours
Total pending hours
Total all hours

To export your Users from your Dashboard:
Go to Users
Select Export in the top right corner
Select your preferred format
You will receive an email with the file
Service Logs Export Updates
We've made some changes to the Service Logs report that will make exporting much easier for organizations with a high volume of logs. Previously, if you wanted to export a large number of logs, it required a lot of scrolling and waiting. Now, if you want to export all service logs, you can do so with only three clicks:
On the Service Logs page, click the box in the top left corner, next to the Created column. It will add check marks to all the logs.
A message will appear above the table that says, "Service logs currently displayed have been selected. To select all logs click here!" Click the blue "here."
You'll see "Selecting all logs! This may take a few minutes." When that message goes away click Export in the top right corner.
You will receive an email with the file.
Additionally, the Service Logs export now includes two new date columns:
We added these columns to make it easier to see which logs were new, and to provide more visibility into changes to logs.
Customizable Hashtags
You now have the option to add custom hashtags that will prepopulate any time one of your users posts to social media from the app. They can be your organization name, a tagline, or any hashtag you want to encourage your users to include in their social posts. You can add as many as you'd like, and you can change them at any time.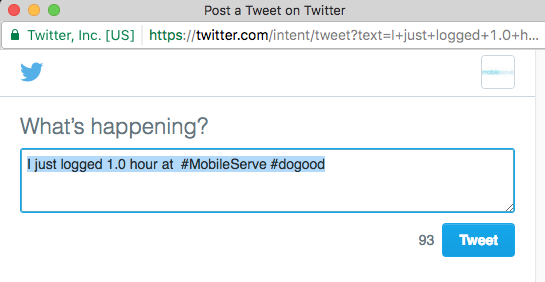 To add your custom hashtags:
Go to Settings on your Dashboard
Under Social Hashtags, type in your preferred hashtag (do not include the "#" sign)
Hit Enter
To add additional hashtags, type them in one at a time, hitting Enter after each one.
To remove a hashtag, click the "x" next to it.
Click Update Organization to save your changes
We can't say it enough, but we are truly building MobileServe based on what you tell us is important. We welcome your feedback and suggestions at any time, so keep it coming!