Kiva's International Women's Day Campaign
Kiva is a nonprofit organization that facilitates peer-to-peer microlending. What does that mean exactly? Well, Kiva offers a couple of different programs, but it's primary site Kiva.org allows people to lend money to low-income entrepreneurs and students in over 80 countries. The Kiva website includes personal stories of each person who needs a loan, so that lenders can connect with the entrepreneurs they support. Kiva loans can be as low as $25 dollars, and while you won't receive interest on them, they make it super easy to support people, causes, and projects you care about, all over the world.
To celebrate International Women's Day, Kiva is giving 10,000 new users $25 each, which they can use to support a woman to start a business, go to school, access clean energy, or invest in her community. So if you don't have a Kiva account, and you'd like to give $25 to a woman at no cost to you, go sign up for an account here: https://www.kiva.org/lend/international-womens-day.

You can browse projects, read about the women, and how they will use your loan.
These free loans are part of Kiva's goal to crowdfund $3M in loans to women in celebration of International Women's Day. They've been running this campaign for the past week, and today's the last day to get the free $25, so go quickly! And of course you can always create an account and find and support projects year-round.
How a Kiva Loan Helped Launch MobileServe
Kiva's commitment to supporting women and alleviating poverty is awe-inspiring, and the organization's role in connecting people and highlighting the power of relationships is in total alignment with our mission to create more good in the world. And Kiva's International Women's Day campaign is a reminder of the help MobileServe received as a past Kiva loan recipient.
In January 2015, MobileServe cofounders Chris Head and Ben Reno-Weber were in the early months of starting the company. They were participating in an accelerator program, surrounded by mentors and pushing themselves to the limits, as they tried to compress years' worth of learning into only a few months. Chris had made the leap to work full-time on MobileServe, despite not being able to take a salary.
Both Chris and Ben believed MobileServe would solve a big pain point felt by organizations and people who engage in volunteerism–accurately capturing their stories of service and using those stories to create more good in the world. All the other volunteer tracking tools at the time were old and clunky, and Chris and Ben were building MobileServe as a modern tool that people, including themselves, would want to use, with a big focus on being mobile-friendly. But passion alone couldn't keep the company going, and at the time Kiva Zip had just made its way to Louisville, where MobileServe was located.
Kiva Zip (now Kiva U.S.), facilitates 0% interest peer-to-peer loans, where people can lend as little as $5 to entrepreneurs in the United States. MobileServe received a Kiva Zip loan in January 2015, and this no interest loan was instrumental in getting the company off the ground. Thanks to the support of 118 lenders, MobileServe received a $5,000 loan that helped create the first version of the MobileServe app and early outreach to potential clients.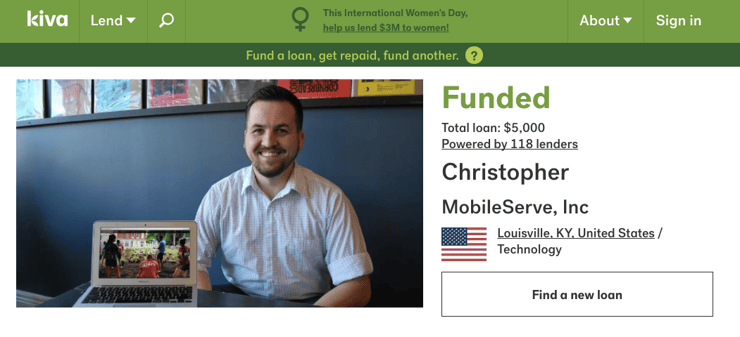 And while the $5,000 made a meaningful impact on the company's progress, knowing that 118 people believed in MobileServe at such an early stage, really drove Chris and Ben to do everything they could to move the company forward. MobileServe made its final Kiva loan payment a few months ago, and it was a time of reflection, remembering where they began and the people who have helped along the way.
Today, MobileServe consists of 6 full-time employees, with Ben at the helm as CEO and Chris overseeing tech. There are more than 19,000 people using the MobileServe app, who have logged more than 80,000 hours of service. That figure translates into an economic value of $1.9 million–a number that is both humbling and encouraging. We are on a mission to create a culture of doing more good in the world and applaud organizations like Kiva, who has helped fund more than $950M in loans to 2.3M people.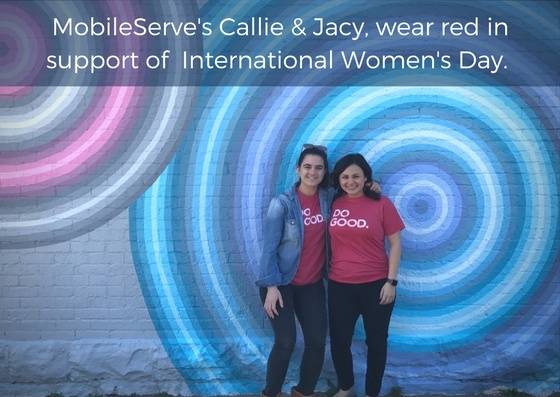 About Kiva
Kiva is an international nonprofit, founded in 2005 and based in San Francisco, with a mission to connect people through lending to alleviate poverty. By lending as little as $25 on Kiva, anyone can help a borrower start or grow a business, go to school, access clean energy or realize their potential. 100% of every dollar you lend on Kiva goes to funding loans. Kiva covers costs primarily through optional donations, as well as through support from grants and sponsors.
About MobileServe
MobileServe is on a mission to provide smart volunteer tracking and the most advanced social impact reporting, so that people and organizations can do more good in the world. With its easy-to-use online platform and user-friendly mobile apps, MobileServe provides community service tracking solutions that volunteers love to use, while driving real, bottom line, results for its customers. Headquartered in Louisville, KY, MobileServe is used by leading organizations and is on more than 250 campuses across the US. For more information visit mobileserve.com.